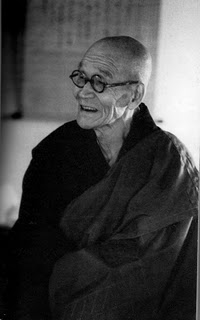 Kodo Sawaki Roshi has been described as, "like an ancient Zen master: fearless and unconventional", by his disciple Uchiyama-roshi. By age 7, both his parents had died, an uncle who adopted him had also died and he was adopted by a professional gambler. At age 16, he went to Eihei-ji aspiring to become a monk. The next year he was ordained by Koho Sawada, abbot of Soshin-ji, and given the name, "Kodo". In 1923, he began travelling around Japan giving lectures and leading sesshins (retreats). Because of his resistance to establish himself in a temple, he was known as Homeless Kodo. He became a professor of Zen literature at Komazawa University in 1935 and taught there until 1963. He established Antai-ji Shichikurin Sanzen Dojo in 1949, retired there in 1963, and he died two years later, on December 21st, 1965 at the age of 86.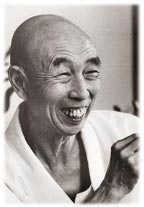 Kosho Uchiyama Roshi is one of the most highly respected modern Japanese Zen Masters. In 1912, he was born in Tokyo, Japan. He received a Master's Degree in Western philosophy from Waseda University in 1937 and was ordained as a Soto Zen priest in 1941 under Kodo Sawaki-roshi. Upon Sawaki-roshi's death in 1965, Uchiyama-roshi became the abbot of Antai-ji, a monastery and temple then located in Kyoto, Japan. Contrary to his teacher, he did not travelled very often, but tried to stay at Antaiji with his disciples as much as possible. In 1975, he retired from Antai-ji and lived with his wife at Noke-in, a small temple outside Kyoto until his death on March 13, 1998. He wrote about 20 books about Zen, including some translations of Dogen Zenji's texts into modern Japanese. Although he never left Japan, he greatly influenced many Western practitioners.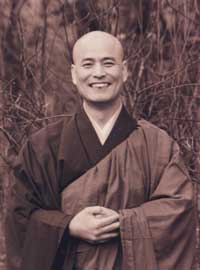 Shohaku Okumura was born in Osaka, Japan in 1948. He studied Zen Buddhism at Komazawa University in Tokyo and was ordained by Kosho Uchiyama-roshi in 1970. They practised together until 1975, when Okumura-roshi came to the United States. After practising at the Pioneer Valley Zendo in Massachusetts until 1981, he returned to Japan, where he began translating Dogen Zenji's and Uchiyama-roshi's writings into English. Okumura-roshi was a teacher at the Kyoto Soto Zen Center and later at the Minnesota Zen Meditation Center in Minneapolis, Minnesota, and has led sesshins and Dharma study groups in the United States, Japan, Europe and Latin America. From 1997 to 2010 he has been director of the Soto Zen Education Center in Los Angeles, an office of the Administrative Headquarters of the Soto Zen School of Japan. The office has since changed its name and the location; today it is in San Francisco and is called Soto Zen Buddhism International Center. He lives and practices at Sanshin Zen Community in Bloomington, IN.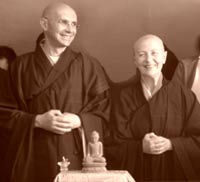 Annamaria Gyoetsu Epifania and Guglielmo Doryu Cappelli are disciples of Master Shohaku Okumura Roshi, in the lineage of Master Uchiyama Roshi. They approached Buddhism in 1985. They received monk ordination in 1999 in the Soto Zen Japanese tradition from Master Roland Yuno Rech, disciple of Master Taisen Deshimaru Roshi, at the Gendronniere Zen Temple, in France. They collaborate with the Italian Buddhist Union as far as conferences and various initiatives are concerned. Also with the Buddhist Net of central and southern Italy,  and the Astalli Foundation for religious diversity in schools..
Annamaria Gyoetsu Epifania is the teacher and guide at Anshin Palermo Zen Center and Anshin Ragusa Zen Center. In July 2016 she received Dharma transmission from her teacher Okumura Roshi.
She regularly leads seminars on Zen Meditation and Dance
Guglielmo Doryu headed and directed the International Zen Assosciation Zen Dojo of Rome from 2001 and 2006 .In the Autumn of 2008 he was one of the 22 European and American monks to particpate in the monastic formation ango, organized by the International Soto Shu  at the Gendronniere Zen Temple and in 2012 at Shogoji Temple in Kumamoto prefecture, Japan. In July 2014 it was confirmed Shuso during the Hossenshiki (Battle of the Dharma) Ceremony  at Sanshinji temple by his teacher Okumura Roshi at the presence of Rev. Genko Akiba Roshi. He collaborates with the National Office for Ecumenism and Interreligious Dialogue of the Italian Episcopal Conference in the Buddhist-Christian dialogue and with the D.I.M. (inter-religious Monastic Dialogue). In March 2015 he received Dharma transmission from his teacher Okumura Roshi. The transmission has been officially confirmed in July 2015 by Zuise ceremony held at the temples of Eiheihi and Sojiji in Japan. He has the qualification of Kyoshi, authorized teacher by the Soto Shu Sumucho, the administrative authority of the Soto Zen International.
Both professional dancers, they are founders and teachers of Anshin Zen Center in Trastevere, Rome, where they lead the Practice of Zen and hold regular courses of Creative and Therapeutic Dance